Cleta Mitchell's journey from progressive Oklahoma lawmaker to Trump lawyer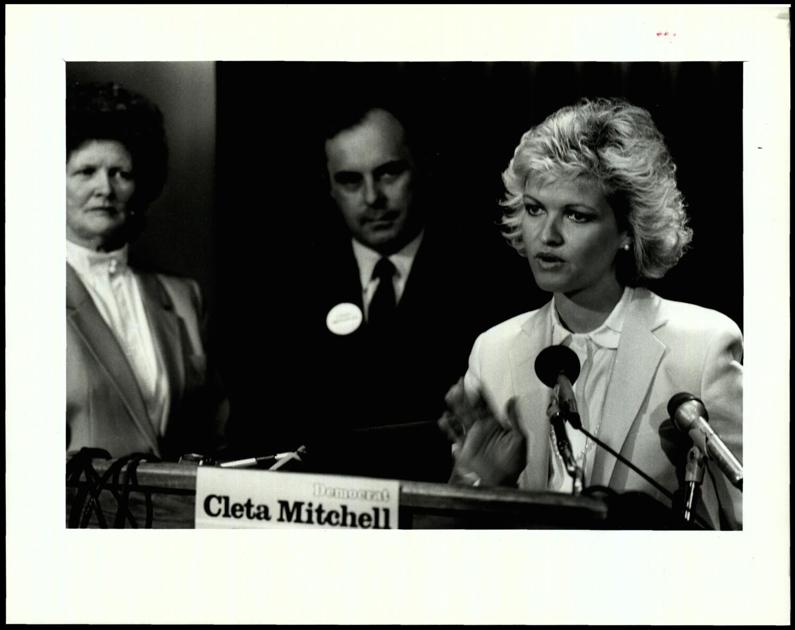 Despite having just come to national attention in the past week for her involvement with President Donald Trump, Cleta Mitchell once had a heavy hand in progressive Oklahoma politics.
Mitchell is now known as the estranged lawyer who was advising Trump during a phone call, first reported by The Washington Post, in which Trump and Mitchell attempted to coerce Georgia Secretary of State Brad Raffensperger into overturning the election results in Trump's favor.
Mitchell can be heard numerous times throughout the phone call making baseless claims of voter fraud while being continuously cut off by Trump. But Mitchell wasn't always peddling claims of fraud and fighting to overturn elections.
Oklahoma Legislature
In her home state of Oklahoma, Mitchell was once considered one of the more progressive lawmakers in the state House.
"I was Ms. Education all the time I was in the legislature," Mitchell told The Transcript. "I don't know that anybody did more for education, education funding, teacher salary increases, libraries and universities than I did."
At about 26 years old, Mitchell served as a Democrat representing District 44, former friends, colleagues and classmates told The Transcript. She represented the district for two terms from 1976-1984.
"[Mitchell] had a significant position in the legislature and at an early age," former Oklahoma Gov. David Walters said. "She was chairman of appropriations at one point and I think for a young woman in the legislature at that time was inspirational to other young folks, particularly women."
Walters said he first met Mitchell in college at the University of Oklahoma, where they were both heavily involved in student politics. Before her time as a lawmaker, Mitchell's husband at the time, Duane Draper, was running for Norman city council, and Walters decided to get involved with his campaign.
Walters described Mitchell as someone who was for "every liberal and progressive cause that came along."
"She was representing a relatively safe district and had the liberty to, I think, get out on the edge of progressive and liberal causes," he said. "From that standpoint — for people like me, an unreformed Democrat — it was always a bright spot for us, particularly young professionals and young leaders, that we had somebody like her in the legislature."
Ben Odom, former chairman of the Cleveland County Democratic Party and current lawyer, came to first know Mitchell during his stint as the Oklahoma state president of the Young Democrats in the late 1970s.
While Odom was president and Mitchell was still in the state House, Mitchell was running her own Democratic political operation as a co-chair of the Ted Kennedy for President campaign in 1980 alongside former congressman Ed Edmonson, D-Okla.
"The funny thing to me is, I recall her on a couple occasions kind of kidding me about being too conservative — now look where she is," Odom said with a laugh. "This was back when I was considered a very progressive person in Oklahoma politics."
Mitchell was a huge advocate for Oklahoma to ratify the Equal Rights Amendment, Odom said.
The ERA was a constitutional amendment drafted in 1923 that sought out to make sure that equality under the law could not be "denied or abridged by the United States or by any state on account of sex." The amendment was ratified by Congress in 1972 and was sent to the states for approval. There was a seven-year window set in which states had to ratify it.
"[Cleta] was one of the key people pushing for the ERA in Oklahoma," Odom said.
Despite Mitchell's years of campaigning for Oklahoma to approve the ERA, the state never did. Ultimately, America fell three states short of amending the constitution and Oklahoma was one of 15 states that failed to ratify the amendment.
While Oklahoma failed to ratify the ERA, Mitchell was still a "formidable presence" in the legislator during this time, Odom said.
"Cleta was always very, very smart and very articulate and I'm not surprised she rose to prominence both as a liberal and as a conservative," he said.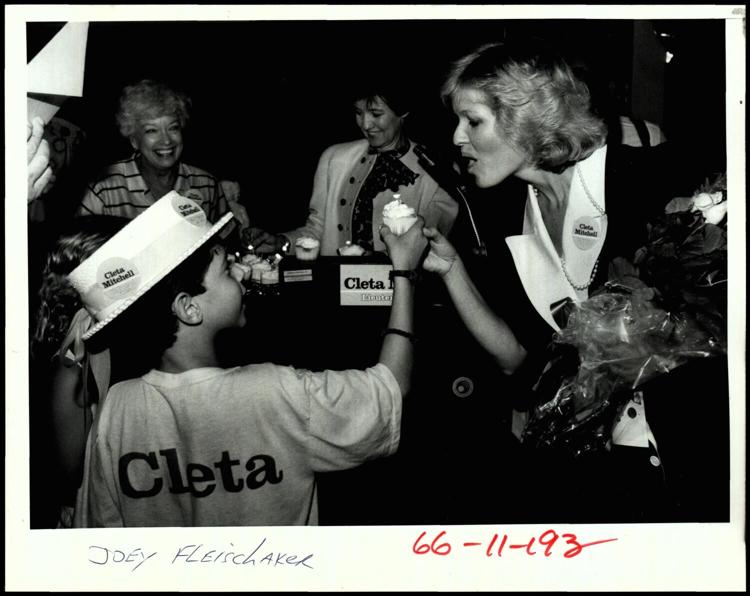 'My change of heart'
Odom said Mitchell's views began to shift to the right after her unsuccessful bid for lieutenant governor in 1986, when she lost in the Democratic primary runoff to Robert Kerr III.
"I don't know if that was what caused it or the timing of it, but it sure made her disillusioned with some people," he said. "I'm sure she thought she was a really good candidate and she should have won. She never lacked self confidence."
Mitchell confirmed Odom's theory, noting that her loss seemed tied to one particular platform she held.
"I endorsed Right to Work, and you don't endorse Right to Work as a Democrat," Mitchell said. "… [Despite all I did for teachers] the [Oklahoma Educators Association] didn't endorse me because I was for Right to Work. And I thought, 'Well that tells me everything I need to know.'"
Mitchell said that her transition from a Democrat was a "thoughtful process." She said she read a lot of books about her political beliefs, the most important one being Myron Magnet's "The Dream and the Nightmare: The Sixties' Legacy to the Underclass."
"After I left the legislature, I began to realize a government big enough to take care of everyone is big enough to destroy anyone it chooses anytime it decides to do that," she said. "So, in this book he writes about how these social programs, government programs start out with the best of intentions, but they end up building a permanent underclass of dependent communities."
From there, Mitchell said she began a "quest and a study" to understand this belief she had come across.
"All that really started my change of heart," Mitchell said. "I thought, 'I got to rethink all of this.'"
A shared belief among Mitchell's old colleagues was that her views started to drastically change after her marriage to then-prominent Oklahoma City banker Dale Mitchell.
"I think her conservative tendencies began when she began dating and ultimately married Dale Mitchell," Walters said. "I've kind of lost track of Dale, but he was clearly not a progressive Democrat. So, I think she kind of married into it. Also, more than likely, the timing of when she wound up in Washington was similar to when there was more power on the conservative side than the progressive side, and I presume she slipped into the Death Star someplace."
Mitchell moved to Washington in 1991 to become a "pro term limit activist," and was later named the executive director of the Term Limits Legal Institute.
"My involvement with the term limits movement [started] when I began to realize that our entire Oklahoma delegation had been elected before the crash in '82 or '83," Mitchell said. "So the Oklahoma that they had lived in was very prosperous. Then in the mid 80s, the struggles of further government takeover of the banks and the largest net employer in Oklahoma City in the mid-80s was government."
Joe Lunn, a former OU classmate of Mitchell, seconds Walters' hypothesis on the origins of Mitchell's conservative ideologies.
"After she separated from her first husband, her life went in a different direction," Lunn said. "[Cleta] remarried and she transitioned from being a Democrat to being an independent and then to an extremely conservative Republican, which in the context of the late 80s early 90s was politically opportune."
Lunn — now a history professor at the University of Michigan — has sparsely kept in touch with Mitchell, he said, and despite seeing her Republican antics over the years, hearing her in the phone recording was shocking.
While Mitchell represented Trump in 2011 against accusations that he violated federal election laws, her identity as a current advisor to Trump was kept a secret up until The Washington Post article. Her role as a prominent conservative was not.
Mitchell has met Trump in person twice, she said, once at Mar-A-Lago after the 2012 election and once this past August at the White House.
Mitchell has been on the board of Republican organizations such as the National Rifle Association and the American Conservative Union Foundation and she once served as president of the Republican National Lawyers Association.
She was also named one of the 25 most influential Republican women by Newsmax in 2013.
"This latest action of trying to coerce the secretary of state of Georgia into overturning the election was sort of despicable on a scale that I would have been surprised by — certainly when I was in college," Lunn said.
On the contrary, Walters was not "particularly surprised," he said.
"We had a University of Oklahoma reunion down in Norman, and I'm thinking she spoke and it was clear at that point she had become very conservative," Walters said. " Now, I've seen her name pop up in that context of very conservative causes, periodically, and then I saw her on television at the Rose Garden event."
At that point, it became clear to Walters and others that she was doing something with the White House, he said.
"I can imagine being in the room with this authoritarian leader that is just brutal," Walters said. "We all know people periodically in our lives that are like that and in the instant, it's pretty intimidating and unless you've already rifled with doubts, you're not going to jump in an object or try to turn the tide in that meeting."
Since her involvement in Trump's now infamous phone call, Mitchell has resigned from her position at her law firm Foley & Lardner.
"As you are probably aware, there has been a massive pressure campaign in the last several days mounted by leftist groups via social media and other means against me, my law firm and clients of the law firm, because of my personal involvement with President Trump, his campaign and the White House, related to the November 3 general election in Georgia," Mitchell said in an email to clients and friends obtained by The Transcript. "After discussions with my firm's management, I have decided that it is in both of our interests that I leave the Firm."
Her firm issued a statement on her resignation as well.
"Cleta Mitchell has informed firm management of her decision to resign from Foley & Lardner effective immediately," the firm said in the statement. "Ms. Mitchell concluded that her departure was in the firm's best interests, as well as in her own personal best interests. We thank her for her contributions to the firm and wish her well."
Mitchell did not directly respond to a question regarding whether or not she regretted taking part in the phone call with Trump, but did say she is "appalled" at the "secret recording" and "subsequent release" of the call.
Regardless of the immediate consequences of Mitchell's role in Trump's call to the Georgia secretary of state, Walters believes the move will help her politically in the end.
"I can't tell if she's going to pay a price for this, or if it makes her more famous and she gets more high profile conservative gigs — and I suspect the latter, Walters said. "There's not a lot of disincentives to this business, unfortunately."